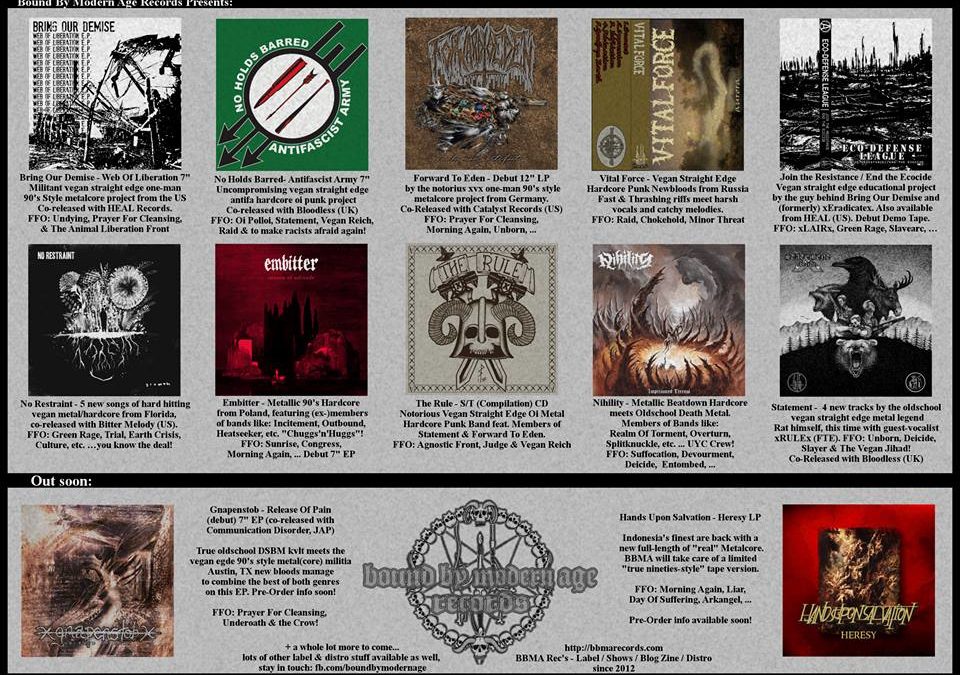 Now up for Pre-Order (starting from Sunday, 15th of July):
BBMA59 Hands Upon Salvation – Heresy LP Tape
Indonesias finest are back with a new full-length of "real" metalcore!
1st Press/50: green tapes with diy printed full-color labels and huge fold-out cover artwork that holds lyrics + info. Comes handnumbered and sealed w/ mini-sticker on side.
BBMA60 Gnapenstob – Release Of Pain (debut) 7″ EP (Co-released with CDDM)
True oldschool DSBM kvlt meets vegan edge 90's style metal(core) militia!
1st Press/200: black vinyl w/ white, stamped center labels & diy printed "sustainable" sleeves
(recycled paper). Pre-Order copies might come with a cool limited special sleeve.
Also available as Shirt + 7″ Combo! Check it out: https://bbmarecords.com/shop
BBMA62 The BBMA Records Mixtape #2 a.k.a. the perfect answer to the question "hey man, can you recommend me some cool new music?" finally is here (again)! Just give him a copy of this awesome mixtape with all your favorite bands on it! FFO: 90's Style Metal- & hardcore (with a message).
1st Press/100: black tapes with diy printed full-color labels and a huge foldout layout/artwork that holds some info about each band/track. Also availabe as a Shirt + Tape Combo!
BBMA63 Seek Nothing – Mint As Fuck EP
The '17 follow up EP of the "not so bad hardcore" metallers, (re-)released by your favorite label for the first time on a good old music casette. Louder & angrier, but still keeping it true to what they're about!
1st Press/50: white tapes with diy printed labels and a fold-out cover layout, which holds lyrics and stuff. Comes handnumbered. Probably. Just order one along with the other shit!
+ (as always) tons of new 2nd Hand and Distro Stuff – feel free to browse!
More to come very soon…